32 Metcalfe Street West | Strathroy, Ontario N7G 1M6 | Phone: (519) 245-1023 | Email: office@dennings.ca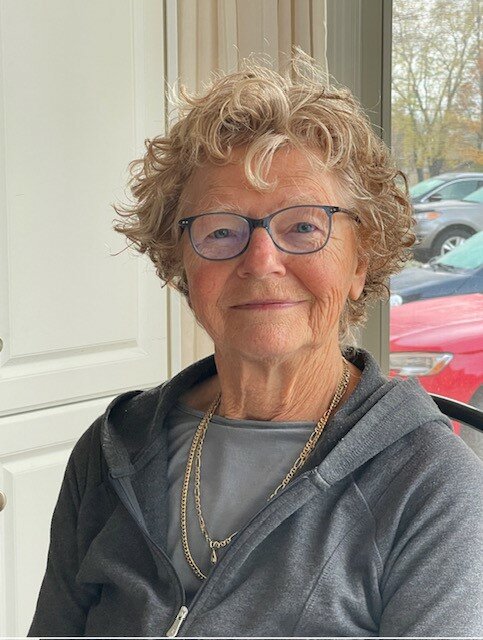 Obituary of Pauline Mary de Jeu
Pauline de Jeu (Koot)
22 September 1943 - 4 November 2023
Pauline embraced life everyday with faith, devotion and love, leading a life of service to her church, her community and everyone she knew. In the past four months alone, she threw herself an 80th birthday party, took delivery of a new car, and went on a trip with her church group. She was a force to be reckoned with!
She was an active member and current President of the Strathroy Catholic Women's League (CWL), a volunteer driver for Children's Aid, volunteer at All Saints Strathroy as an adult altar server, crocheted hats for babies, baked pies as a church fundraiser, participated in bible study, prepared funeral lunches, and was keen to help in any other way she could. She was always busy and loved to be part of things - her work ethic was second to none.
Pauline loved adventure and travel - whether it was on a group tour abroad, a drive out east to visit Joseph and Joanne, a day trip to Toronto, an afternoon hop to Port Huron for margaritas at Chiles, a winter of golf, friends and happy hours in Florida - her energy was the same.
Pauline loved nothing more than gathering people around her table - be it a birthday party, holiday celebration or just having her family for Sunday dinner. She was always the chef, trying new recipes and also the old favourites. And they were always served piping hot, and at the same time!!
She had a competitive spirit, playing Quiddler, Dice or Golf with any willing person, and also hosting her regular card group. She loved listening to her kids and grandkids play a new game she picked up around Christmas time, their exclamations ringing through her house.
She leaves a gaping hole in the lives of her children and grandchildren, who will miss her daily - Kevin and Jackie, Brendan and Chris, Ryan and Ashley, Jacob and Emily; Michael and Donna, Jonathan and Courtney and William; Nicole and Stephen, Lily, Simon, Charlotte and Zach.
She will be greatly missed by her family. She was a friend, confidant, recipe sharer and fashion adviser to her sisters Betty, Joanne and Harry and Cathy and Andy and brother Joseph and Joanne. Sister Sophia Maria and the Poor Clare's out in Mission BC will be praying for Pauline. Brothers/Sisters-in-law Pieter and Gertie, John and Marie, Columba, Ted and Annie, Joe, Ernie and Jeanne, Leo and Bernice and Nellie (deceased in 2011).
Pauline was predeceased by Jacob in 1997 - her husband of 32 years and subsequently Hank van Leerzem in 2013, whom she was married to for 11 years.
The nurses and doctors at Strathroy Middlesex General Hospital were beyond amazing. Their care and support for Pauline and all of her family during the week she spent ICU made the hardest time a little easier to bear.
Pauline died peacefully on Saturday, 4th November with her family at her bedside, exactly as she would have wanted it.
Pauline now joins Jacob in heaven. He has been patiently waiting for a lot of years. And while everyone here will mourn her loss, we know they will both be looking down on all of us, guiding us and keeping us strong for whatever comes next for us.
Visitation will be held on Tuesday, November 7th from 2-4 pm and 6-8 pm at Denning's of Strathroy, 32 Metcalfe Street W, Strathroy. Funeral Mass to be celebrated at All Saints Parish, 124 Front Street E, Strathroy, on Wednesday, November 8th at 11 am.
In recognition of the wonderful care Pauline received, donations to Strathroy Middlesex General Hospital ICU would be gratefully appreciated.
Share Your Memory of
Pauline