32 Metcalfe Street West | Strathroy, Ontario N7G 1M6 | Phone: (519) 245-1023 | Email: office@denning.ca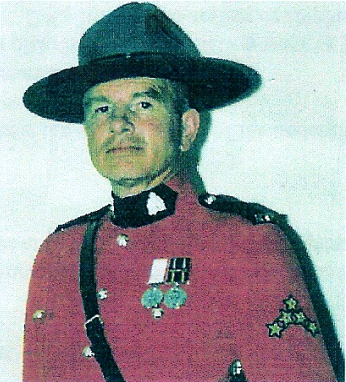 Obituary of Jim Zavitz
"Gentleman Jim" to some and "Dungeon Jim" to others, His Worship Justice Of The Peace JAMES ROBERTSON ZAVITZ, U.E., passed away on 05/16//2017 in his 95th year.
He was born in Ottawa, Ont. on July 28, 1922, the second son of Raymond W. and Jessie (Robertson) Zavitz who have predeceased him, as have his brothers Bob and Jack.
Married for 65 memorable years to the lovely Shirley M. (McCorquodale) Zavitz, U.E., proud father of Carol, Sharon (Rob Ward) (Rob Bregman), Charles "Chuck" Zavitz, and honorary daughter Terry Robb, loving grandfather of Jae (Susie), Nathaniel, Jacob and Amber, and great-grandfather of Emma, Holly and Eve.
In 1941 he joined the Royal Canadian Mounted Police and served in the Arctic and all provinces except Nfld.-Lab. He represented Canada in pistol shooting at the World's Championships in Venezuela in 1954 and Moscow in 1958, at the Olympic Games in Melbourne, Australia in 1956 and won a Bronze Medal at the Pan American Games in Chicago in 1959. He was a 5-time Canadian Pistol Champion, Provincial Champion in Ontario, Quebec & B.C., 4-time RCMP
Service Revolver Champion and won the Canadian Forces Service Pistol Championship once. He was inducted into the Canadian Shooting Hall of Fame. In 1970 he retired with the rank of Sergeant-Major.
His RCMP career was followed by 25 years as a Presiding Justice of the Peace in the Criminal Division of the Provincial Court in London.
Descended from United Empire Loyalists, he was a charter member of the London and Western Ontario Branch of the U.E.L. Association of Canada. He served a term as President and for many years as Genealogist and on the Dominion Council. As Chairman of the Association's "Bicentennial Committee," he planned and oversaw the two-year, coast-to-coast celebrations marking the 200th anniversary of the arrival of the U.E. Loyalists to Canada in 1783 and 1784.
He was Clerk and long-time Treasurer of the Coldstream Meeting of the Religious Society of Friends (Quakers).
Never one to meekly follow the leader, he wanted to be the leader. Never satisfied with things as they are, he always looked for newer, better, more efficient ways of doing things.
In retirement he and Shirley travelled extensively through Britain, the Netherlands and Belgium, cruised the Rhine, Caribbean and B.C's Inside Passage to Alaska and visited many places and people Jim had known when in the police.
He "decreed" that there would be no mourning for him and no visitation or funeral service. He lived a long, full and satisfying life and was content with the way he "muddled" through. He wants to be remembered as he was: laughing, joking, teasing, telling stories or corny jokes, or innovating, teaching, helping, coaxing, needling, criticizing, competing, challenging or combating, whatever it took to get things done.
In time Shirley's ashes will join Jim's in a common urn and they will be together forever in the Quaker Cemetery at Coldstream with his parents, grandparents, great-grandparents and great-great-grandparents.
Jim has been cremated and a family gathering was held to say good bye. A Celebration of Life will be held on Saturday, June 17th, 2017 from 1-4 pm at 25 Brenmar Cres., Belmont, Ontario.. Arrangements have been entrusted to the Denning's of Strathroy 519-245-1023